The annual induction ceremony for the National Soccer Hall of Fame took place on October 20, 2018. In addition to the usual festivities the event also featured a sneak preview into the newly constructed Hall of Fame Experience. As part of the weekend the Society for American Soccer History (SASH) held an American Soccer History Symposium. Undoubtedly the highlight of the event was the presence of the original American Football Association (AFA) Challenge Cup trophy. It had not been seen publicly in decades and for a long time was thought lost. The cup provides a tangible connection to some of the country's greatest teams including Fall River Rovers, Paterson True Blues and Bethlehem Steel and some of its greatest players like Jack Swithenby, Dennis Shea and Archie Stark.
Established in 1884, the AFA Challenge Cup is one of the oldest national soccer competitions in the world. Only the English (1871-72) and Scottish Association (1874-75) cups predate the American competition. The AFA cup is the second oldest surviving national trophy after the Scottish Cup because the original English FA trophy has been lost. One could argue however just how national the AFA Cup really was since it originally included only teams in and around Newark, New Jersey along with a handful from New England. Although geographically limited few other regions of the country had developed soccer competitions and so in that sense it did represent many if not all of the nation's established clubs. The O.N.T. club of Newark won the first three tournaments while the Fall River Rovers took the trophy "Down East" by capturing the next two. Clubs from the region around Narragansett Bay won the next five editions before the Caledonians of Kearny prevailed in 1895. When Philadelphia's Manz won in 1897 they became the first team outside of the original two regions to capture the trophy. After 1898 the competition went into hiatus before resuming in 1906 and continued to be played for until 1924.
The cup was purchased at a Texas flea market about twenty years ago by someone who recognized its potential value but was not familiar with its long history.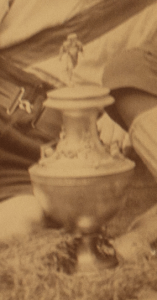 How it got to Texas in the first place is a mystery but it has clearly led something of a rough life. Not many original photographs of the cup exist but in comparing the surviving trophy with older images we can see that it has suffered some considerable damage.